Job Expired

This posting has expired and applications are no longer being received and this job does not show up on the main job list.
| | |
| --- | --- |
| Position Type: | Full-time |
| Date Posted: | Jul 15, 2022 |
| Experience: | 4 Years |
| Education: | College Diploma (3 years) |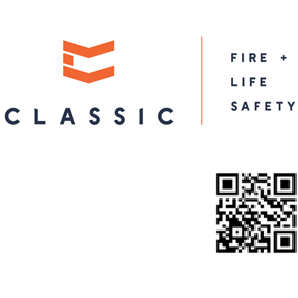 Job Description
Company Description
IT STARTED WITH A COMMON MISSION – TO PROTECT PEOPLE
This mission is the reason why two organizations joined forces in 2021 to create Classic Fire & Life Safety – comprising the strength of all partners, united in one, clear mission.
In June 2021, Classic Fire Protection and FCFP began a journey to come together to create a new, stronger partnership with the intention of continuing to grow with and through new partners if and when the decision to do so would be beneficial to stakeholders – partners, employees and, most critically, customers.
Supported by our values and leadership team, forged by our shared history, we've become the contractor of choice for high quality, professionally installed, inspected and serviced fire and life safety systems and equipment – solutions that play an essential role to ensure the safety of both our clients' facilities and the people inside.
Job description
Position: Human Resources Generalist
Who you are:
You are an enthusiastic Human Resources professional looking to join a dynamic team. You are a team player with excellent communication skills, who is able to thrive in a fast-paced environment.
You contribute to the success of the organization and the team and bring a good understanding of the full range of Human Resources disciplines, the capability to deliver high caliber services to client groups and a passion for supporting and enabling the organizational objectives
The Opportunity:
Reporting into the Human Resources Manager, the Human Resources Generalist promotes and supports positive, pro-active employee relations by providing and initiating a variety of employee services and activities. The HR Generalist provides the employees and management team with valuable feedback through daily interactions, counseling, coaching, and performing various personnel actions. The HR Generalist supports the supervisory and management team in all functional areas of HR including employee relations, benefits, training, leave administration, legislative compliance, labor relations, etc. 
NOTE: The successful candidate will be required to workout of our London Head office, for a total of 3days.
Employee and Labour Relations:
Offer advice and guidance with respect to employee relations and employment standards matters
Assist and coach managers through the progressive discipline process and documentation
Foster solid relationships to work cohesively with collective bargaining unit employees
Respond to and handle general internal and external inquiries pertaining to labour relations and collective agreements.
Assist with the administration and interpretation of collective bargaining agreements
Maintain confidential personnel and legal files
Recruitment, Retention and Orientation
Facilitate the onboarding and orientation process for all locations across Ontario, including training on all company corporate policies and procedures
Responsible for communicating new employee information to the appropriate department within the business unit and facilitating the 30-60-90-day review
In collaboration with the talent acquisition specialist, support candidate sourcing and interviewing where necessary
Assist the talent acquisition specialist in promoting the Classic Fire + Life Safety employment brand by attending various career fairs
Employee Benefits:
Manage the sick leave and long-term disability administration process by assisting employees to complete forms, communicating regularly with employees on claims and status of leave
With the assistance of Health & Safety, monitor and support the appropriate return to work plan to meet the individual needs of the employees
Provide communication and assistance regarding benefits program, pension/retirement plan, parental leave, scholarship program, educational assistance and general policy and procedure information.
HRIS:
Process and maintain changes including but not limited to new hires, status changes, terminations, and payroll changes in the HRIS
Develop and run reports as requested
Ensure departmental compliance with Classic Fire + Life Safety 's record retention program.
Training:
Facilitate training workshops as requested (i.e.: HRIS, time and attendance and applicant tracking)
Other duties:
Takes initiatives by recommending policy enhancements and streamlining procedures.
Updates and maintains Employee Handbook
Assists with initiating activities to improve employee engagement and retention
Other duties as assigned.
Education Requirements and/or Experience requirements:
Degree/Diploma and Program of Study: Completion of a recognized Human Resources management diploma program or equivalent. Working towards completing CHRP designation
Years of Experience: 3-5 Years proven experience working in an HR department with experience partnering with HR professionals and implementing HR initiatives
Skills Requirements:
· Excellent interpersonal skills and communication, both written and verbal are necessary for effective interaction with all levels of staff and other members of the public.
Track record of building high-trust relationships
Resourceful, problem-solving aptitude and thorough knowledge of HR procedures and policies
Passion for helping leaders to develop, motivate and coach their team members
Strong sense of curiosity, keen to desire to learn about new things
Ability to thrive in a fast-paced, always changing environment
Ability to work independently as well as within a multidisciplinary team, problem solve, set priorities in a fast-paced work environment.
Excellent organizational skills, time management and attention to detail
Familiar with all related legislation including but not limited to E.S.A., Labour Relation Act, and Occupational Health and Safety Act
Knowledge of HRIS systems, and comfortable learning new technology systems as needed
Demonstrated competency with MS Office and related software applications is essential.
We thank all applicants who apply, but only those candidates who meet the above qualifications will be contacted for an interview.
Classic Fire + Life Safety Inc. (Former FCFP & Classic Fire Protection) is an equal opportunity employer. We welcome and encourage applicants from diverse backgrounds. We are committed to providing accessible employment practices that are in compliance with the Accessibility for Ontarians with Disabilities Act (AODA). If you require accommodation (including, but not limited to, an accessible interview site, alternate format of job posting) during the recruitment and selection process, please let our Recruitment team know.
Application Contact Information